Fireworks Events for
Bean and Bacon Days 2020 will be presented.
Other events are cancelled but may be rescheduled later this year. Otherwise see you in 2021
Visit Augusta Wisconsin for Bean and Bacon Days
See What's Happening In Augusta Wisconsin during the Beans and Bacon Days Celebration and Festival.
Mark your calendar -
The Grand Parade Sunday, July 2021 - 1:30 pm
Come visit - Celebrate the Summer and Independence Day!
The Independence Day Holiday is Saturday, July 4, 2020.
2020 is the 164nd Birthday of Augusta WI and the 44nd Year of this annual Celebration See the full events schedule for 2021 on the Augusta Wisconsin Web
See the Posters for Bean and Bacon Events in 2021
- See the Augusta Wisconsin Car Show. Like us on Facebook - Thunder Roads Rods and Customs Car Club
- Enter the Ms. Beanette and Mr. Bean or Mr. Bacon contest in the Beans and Bacon Pageant 2021 - The 2020 event may be rescheduled
- Plan to have a float in the 2021 Bean and Bacon Days Parade
- Visit the INDOOR Craft Sale, and Vendor Sale, Used Books and More at the Senior Center at the Community Center
- Watch Bean and Bacon Days Fireworks in Augusta Wisconsin - 2020 Fireworks are Friday July 3, Downtown Augusta and on Lake Eau Claire Saturday, July 4 - both events at dusk
- Have some Barbeque Chicken
- Watch some horse pulling
- Drinks some Wisconsin beer
- Dance under Augusta Wisconsin nighttime skies
- See the 28th Annual Augusta Wisconsin Demolition Derby
- Watch or participate in the Demolition Derby, Burnout Competition and ATV Mud Races
- Shop for Augusta WI crafts, antiques, Amish Furniture, and gifts
- Visit the Henning Art Gallery and Sleigh Museum
- Watch and participate in ATV Mud Races and ATV Mud Bogs
- Start your Independence Day Holiday in Augusta Wisconsin
- Stay at the Eau Claire County Harstad or Coon Fork Campgrounds, or The Trails Edge Saloon and Campground
- Book the craft and scrapbooking, retreat centers and crafting centers of Bridgecreek Cottage
- Participate in the Run for the Bacon 5K Walk / Run. - Register online at Active.com, Discount before June 1
- Enjoy some summertime music under crystal skies
- Visit some Senior Citizen friends or family in the Augusta Wisconsin nursing home
- Watch Fireworks at Lake Eau Claire
Visit the Augusta Wisconsin Web Bean and Bacon Days Page for exact event times and specific locations in Augusta
keys:
2021, Events, Augusta, Wisconsin, Bean, Bacon, Days, campgrounds, craft sale, Beanette, parade, fireworks, holiday, independence, dance, parade, float, craft, scrapbooking, ATV, mud, races
For our Chinese friends. Celebrate democracy, freedom and independence. 法輪功, Falun gong, 李洪志, 2021, June 4, 6月4日, 天安门广场, Tiananmen Square, 1989
Plan Visit us again at Bean and Bacon Days in 2022
Events and News
Questions? Call Carol Peuse at 715-286-5013
The 2021 Bean and Bacon Days Event schedule available on the

Augusta WI Web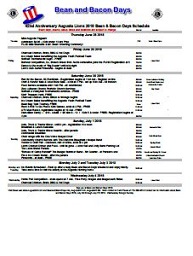 including maps of the parade route, fireworks, Patriotic Church Service and all other activities
The Community Center is hosting an INDOOR Craft Sale and Vendor Sale on Saturday July 2, 2019. Now seeking Exhibitors. See the Craft Sale and Vendor Sale Page on the Augusta WI site
Also see the Craft and Vendor Fair